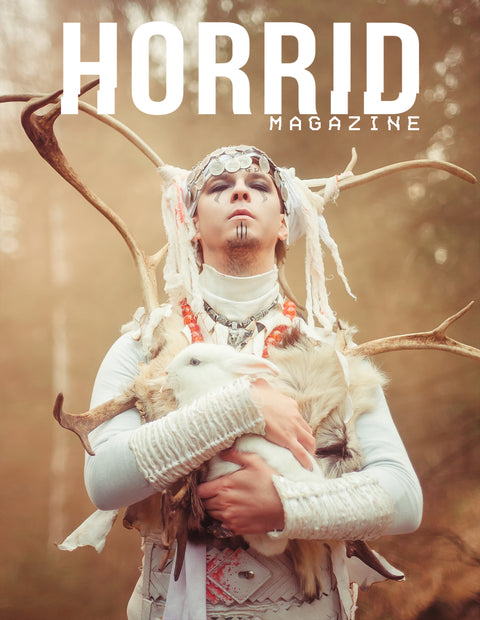 Horrid Magazine Volume 4, Issue 4: Ancient Scribes is released!
On April 13th we released the 4th issue of our 4th volume of Horrid Magazine. Entitled Ancient Scribes: Volumes of Forgotten Lore, the issue explores historical themes, fantasy, and ghosts of the past. Here is what Emerald Boes wrote in the editorial:
"Hey! Welcome to HORRID Volume IV Issue IV - Ancient Scribes. We wanted to create this issue with a more historical approach to dark art. We curated an awesome issue filled with mystics, warriors, sorcerers and more. This issue was really cool to create as we saw the art coming together. It feels like sitting around a campfire, hearing tales passed down from generation to generation. Folklore from many cultures, countries and families. 
The subcategories in this issue speak to the history of each category. Ghosts of the Past features historical horror; dried blood from centuries ago and monsters in ancient mirrors. Mythology encompasses all things fashion based; armor from long-ago wars or relics worn from ancestors' past. The last category, Ancient Scribes, holds within a historical look into dark art. 
We hope you enjoy this issue, we were in awe of the costume and artistry of hair and makeup from each portrait submission. The mysticism of the non-portrait submissions, be it writing, photography or painting, create an eerie and archival mood that can be seen throughout the entire magazine. 
For those of you that have been following our crazy journey since the beginning, thank you for sticking around. For those of you that may have just discovered us, or submitted your art for the first time, hey! We hope you enjoy what we are doing here. As always, thank you from the bottom of our dark hearts for joining our cult."
Make sure to subscribe to HORRID Magazine before July 13th to see what Volume 5 has in store!
#horrid #horridmagazine #horridmag #darkart #artist #magazine #artmag #artmagazine #witchcraft #cult #kvlt